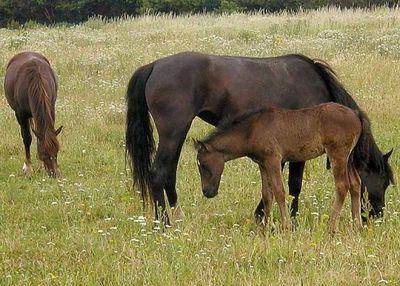 Approximately 80% of white or grey horses develop melanomas. Melanomas are skin cancers more common to certain breeds – Arabian, lippizzaner and Percheron – who have a high incidence of grey horses. They can be easily detected as they are usually black and found commonly around lips, eyes, ears, salivary glands, anus, penis and vulva. Most melanomas are benign, but the more aggressive ones can spread to other organs.
A new cancer vaccine to treat melanomas is in the works for horses. Dr. Jeffrey Phillips of Lincoln Memorial University's College of Veterinary and Comparative Medicine at an American Association of Equine Practitioners convention held in November, 2011 in Texas said, "one novel strategy for treating cancer in human medicine is the use of DNA vaccines that target cancer cells."
It was discovered that in the diagnoses of melanomas there are high levels of a molecule named tyrosinase not found in other cells. Dr. Phillips along with colleagues used an FDA approved canine vaccine on 5 horses who were cancer free. There were no adverse reactions and all the horses developed a long-lasting immune response.
Initial results are promising and field studies in horses with tumors are being conducted.