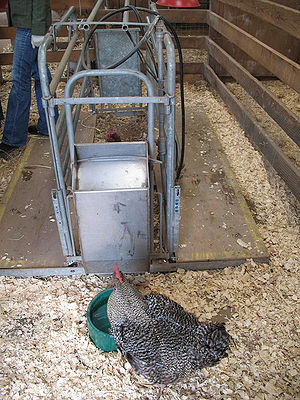 Wayne Pacelle, CEO and President of HSUS informs us that thanks to their efforts, Heinz has committed to efforts to end the use of gestation crates for sows.
Heinz Joins the Call to End Gestation Crates
Posted: 16 Jul 2012 09:40 AM PDT
Today, we're announcing the decision of yet another major food company to commit to ending the use of gestation crates. Heinz, one of our nation's most iconic food manufacturers, produces frozen meals and sauces that contain pork, including for its Weight Watchers, TGI Friday's, and Classico branded products.
"[Heinz] is currently working with its pork suppliers to understand and document their plans to reduce or end the use of crates," wrote Heinz in a letter to The HSUS. "This information will be used to inform the company's choice of suppliers now and in the future, in an effort to increase the company's use of pork from crate-free sources and, over time, eliminate gestation crates from our supply chain."
Just this year, McDonald's, Burger King, and Wendy's (the top fast food chains in the country); Kraft (the world's second-largest food manufacturer and maker of Oscar Mayer meats); Kroger and Safeway (the nation's top two grocers); and Compass Group and Sodexo (the world's top two food-service companies) have all enacted policies to eliminate gestation crates in their supply chain.
Our efforts―and the efforts of food companies like Heinz―are paying off. Just look at what the pork industry's own publications are saying. "The Humane Society of the United States is succeeding in its efforts to convince major U.S. pork producers to phase out the use of sow gestation stalls," according to trade journal Meatingplace. The Western Producer told pork companies that "You'd have to have rocks in your head to build a new sow barn with gestating sow stalls." Pork magazine advised producers opposing this snowballing movement away from gestation crates, "You will lose the battle."
At The HSUS, we're working to bridge the gap between how farm animals are treated and how these animals should be treated. And virtually nowhere is this gap starker than in the pork industry, where mother pigs are virtually immobilized for nearly their whole lives in crates barely larger than their own bodies.
It wasn't always that way. Industrial agriculture didn't start cramming pigs in crates until about 30 years ago, when some businessmen decided that a caged pig would require less space and labor. This practice of extreme confinement spread like a virus within the industry, and has become the dominant system of pig production. We moved away from the era of pig farming and into the era of pork production, where the animals are treated as inanimate objects.
In addition to the corporate progress we've achieved, we've help push the enactment of nine state laws to ban gestation crates in the last decade.
When you add all of this up, it's clear that there's no future in gestation crates for sows. It will hopefully just be a matter of time before the pork industry's leadership realizes that change is inevitable.