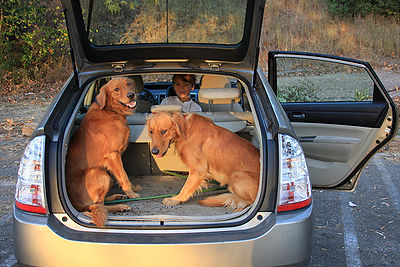 Geocaching is a word meaning geography (geo) and caching (hiding something). Geocaching consists of hiding a container at a specific spot and using GPS coordinates to locate it.
Many participants in geocaching bring their dogs along to enjoy hunting the treasure and using the time for play and bonding.
The caches are hidden in both rural and urban areas. They are rated according to difficulty of terrain and how hard it is to find the container. You can check online for caches that appropriate to take your dog searching with you.
Tips for caching:
Be sure to carry supplies such as water and treats for your dog.
Bring baggies to clean up after your dog.
Check if leashing your dog is required. If your dog tends to wander, it's a good idea to keep him/her leashed, especially in an unfamiliar area.
When caching at night, your dog should wear an illuminated vest (you too) and/or collar.
Make sure your dog is physically able to handle the hike and the terrain.
You can find more information online at Geocaching – The Official Global GPS Cache Hunt Site.