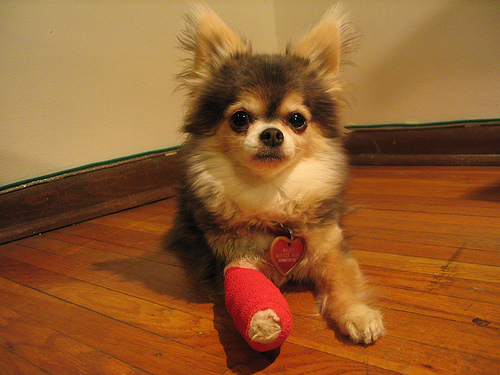 An essential piece of equipment is a First Aid Kit for your cat and dog in case of emergencies. When you can't get to the vet immediately, having a first Aid Kit and knowing what to do will help deal with problems. Most of these items are in our first aid kits too.
rounded end scissors
rectal thermometer
tweezers
petroleum jelly
2″ and 4″ bandages
stretch bandages
gauze pads
adhesive tape
cotton balls
Q-tips
tongue depressors for use as splints (cats)
Isopropyl alcohol
hydrogen peroxide 3%
antiseptic cream
calamine lotion
sterile saline solution
antibacterial soap
towel
protective work gloves for you
cat muzzle
dog muzzle
antibiotic ointment
Benadryl or other antihistamine
Pepto Bismol – (dogs sensitive to aspirin, use Kaopectate)
Kaopectate
Syringe for oral dosing
Pill Gun
Pill splitter
Vet Wrap (ease of covering wounds and keeping them clean)
Protect yourself as best you can as an injured cat/dog may bite or scratch no matter how gentle they are ordinarily. Try to have someone help hold your pet carefully depending on the injury.
It's a good idea to paste the vet's telephone number and address, poison control center telephone number and emergency clinic number on the First Aid Kit. Let everyone in the family know where the kit is kept and what is inside. Check the contents regularly to see that nothing is damaged and if any items are outdated and need to be replaced.
Remember, the First Aid Kit in no way is a substitute for getting to the vet as soon as possible in an emergency. Call your vet or emergency center to let them know you are on your way and what has happened.
NEVER, EVER GIVE YOUR PET MEDICATION YOU MIGHT TAKE WITHOUT CONSULTING YOUR VET FIRST!
Video
Related Articles