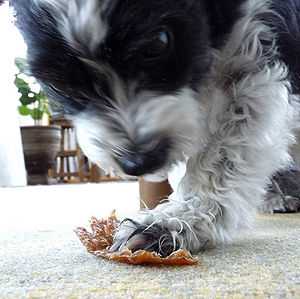 The U.S. Federal Drug Administration continues to caution dog owners about chicken jerky products. They can be sold as chicken tenders, strips or treats.
The FDA reports that in the last 12 months, there has been an increase in reports of dog illnesses associated with chicken jerky products from China.
Consumers feeding their dogs chicken jerky should watch closely for any of the following symptoms: decreased appetite, decreased activity, vomiting, diarrhea (sometimes with blood), increased water consumption and increased urination.
The FDA and other diagnostic laboratories are working to find why these products are associated with dog illness. To date the cause has not been determined.
Please use caution if feeding your dog chicken jerky products. The FDA advises that they are not substitutes for a balanced diet and should only be fed occasionally and in small quantities.
Related Articles