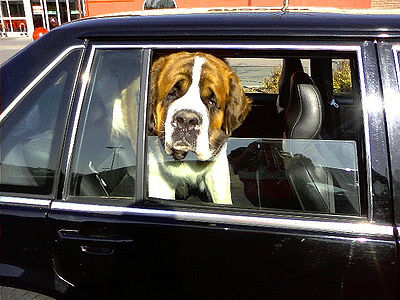 In a report by KOB Eyewitness News 4, a woman in Albuquerque, New Mexico saved a dog from a sure death. It happened in the parking lot of a medical facility. The dog was barking and pawing at the window, but finally gave up and lay down on the floor of the car. The woman watching the incident called 911 telling them of the dog's distress and the location. After waiting 40 minutes with no one showing up, the woman took matters into her own hands and broke the window on the driver's side of the car to allow some air inside. The police and then an animal welfare officer finally arrived. Having taken her mother to the doctor, the owner of the dog appeared. When she saw what happened and learned the reason why, she thanked the woman profusely for saving her dog's life and refused to press charges for the broken window. The owner had cruelty charges against her dismissed as long as she takes a pet safety class.
This owner was very fortunate that someone was present and took action to save the dog's life. Sadly there are too many dogs and other pets who are left in cars with their stories ending tragically.
Even if you crack open a window in a car or park in a shady area, the temperature inside the car rises dramatically within minutes resulting in heatstroke and death for your pet.
A dog left alone in the car can become destructive and in the process injure him/herself besides damaging the car. There is also the possibility of your dog escaping and running off or being stolen.
If you have errands to do, leave your dog or other pet at home. NEVER, NEVER leave your pet unattended in the car. Besides being abusive treatment, in most places you can be charged with animal cruelty.