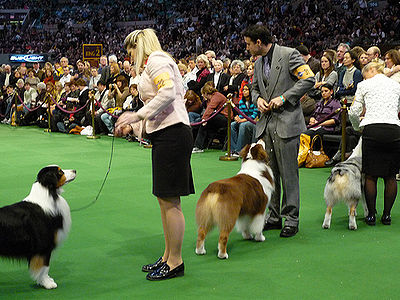 The Crufts Dog Show was created in 1891 by Charles Cruft. Charles Cruft was an ambitious man who made a career out of his love of dogs. The first Cruft's show was booked into the Royal Agricultural Hall in Islington, England, with 2,437 entries and 36 breeds. Aside from the periods of the two world wars, the show has been held continuously until the present day.
The website of Cruft's Dog Show describes the show as follows:
"The dog show is still an important part of the event, celebrating the unique relationship that dogs share with their owners. Judges are trained to ensure that only healthy dogs win prizes, which in turn encourages the breeding of healthy dogs. But the event is now about so much more besides.
Crufts is ultimately a celebration of all dogs. It celebrates working dogs, which are fit and healthy enough to perform the jobs for which they were originally bred, such as those in the Gamekeeper classes or which line up for the Police Dog Team Operational and Humanitarian Action of the Year award, and it hails hero dogs through the Friends for Life competition. Rescue dogs are celebrated in the rescue dog agility competition and the speed and agility of dogs is celebrated in the ever popular competitions of Flyball and Heelwork to Music."
In 2012, the Cruft's show will be held from March 8-11 at NEC Birmingham. The schedule is:
If you can't be at the show, you can watch it online on YouTube.