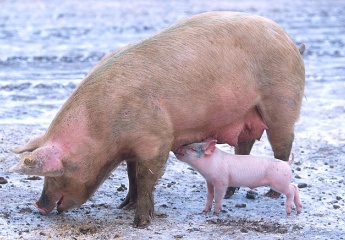 The CDC (Centers for Disease Control and Prevention) has said that the number of H3N2v reported cases in the U.S. Since July, 2012 has reached 224 as of today (August 17th).
The CDC notes that so far the virus has not spread readily from person to person. Exposure to pigs seems to be the source of infection.
However, acquisition of the pandemic M gene could make the virus spread more easily between humans.
This year, Michigan and Wisconsin have reported the M gene in the virus while the gene was found in cases in Pennsylvania and West Virginia in 2011.
The CDC recommends that people with high risk of flu complications (children under 5 years old, people 65 years of age or older, pregnant women, people with chronic medical conditions such as asthma, diabetes, heart disease, weak immune systems and neurological conditions) stay away from swine barns at summer fairs.
Symptoms of the virus include fever, cough, sore throat, runny or stuffy noses, body aches, headaches, fatigue. Illness can range from mild to severe.
The CDC further states that eating pork will not transmit influenza viruses.
For further information, visit the CDC website online.