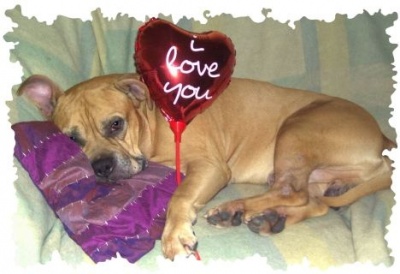 We show our love all year for our pets, but there are still special ways to celebrate Valentine's Day with our special pals. On holidays we tend to want to be more extravagant in showing how much we care. Here are a number of ideas to make sweet Valentine's Day memories.
Bake a cake or cookies in heart shapes for your cat or dog. Be sure to use only ingredients that are safe for them.
Visit a favorite or a new pet shop. Treat your pal to something new such as a toy or some natural treats. You can find some that are heart-shaped.
Take your pet to a "pet pamper parlor" for a special grooming treat.
If your pet enjoys travel, go for a ride in the country. Check out pet friendly hotels and have an adventurous overnight stay.
Weather permitting, have a BBQ and invite friends and their pets to join you.
Take lots of photos of your pet and create a Valentine's Day album.
Have an artist paint a portrait of your pet.
Make paw prints or nose prints of your pet with special clay. There are pre-packaged kits with directions at some craft shops.
Donate to a favorite pet cause or shelter in your pet's name.
Check the newspapers for Valentine's Day events for pets in your area.
If your human companion is a pet lover like yourself, here's an idea: give an e-pet card. Sloppy Kiss Cards is an animated e-card greeting service for pet lovers. Each e-card tells a story. You choose & name the dog, cat, horse, bird, fish or other pet that stars in your e-card.
If Valentine's Day is a stay at home day for you and your pet, it can still be memorable because you are spending the day with your very special friend.
Note: Please keep all chocolates, other sweets and inappropriate food out of reach of your pet. We want this to be a Happy Valentine's Day. The ASPCA says each year their poison control experts see a rise in cases around February 14, many involving chocolate and lilies, a flower that's potentially fatal to cats. The organization shares some valuable advice on how to keep your pets safe during this chocolate-covered, flower- filled holiday. Check them out on the ASPCA website.
Here's a quick overview:
Pet-Safe Bouquets: All species of lily are potentially fatal to cats. When sending a floral arrangement, specify that it contain no lilies if the recipient has a cat.
Forbidden Chocolate: Go ahead and indulge, but don't leave chocolate out for chowhounds to find.
Careful with Cocktails: Spilled alcohol is nothing to cry over until a curious pet laps it up. Because animals are smaller than humans, a little bit of alcohol can do a lot of harm.
Life Is Sweet: Don't let pets near treats sweetened with xylitol. If ingested, gum, candy and other treats that include this sweetener can result in a sudden drop in blood sugar known as hypoglycemia.
Every Rose Has Its Thorn: Don't let pets near roses or other thorny stemmed flowers. Biting, stepping on or swallowing their sharp, woody spines can cause serious infection if a puncture occurs
Playing with Fire: Pawing kittens and nosy pooches can burn themselves or cause a fire by knocking over unattended candles.
Wrap it Up: Gather up tape, ribbons, bows, wrapping paper, cellophane and balloons after presents have been opened—if swallowed, these items can get lodged in your pet's throat or digestive tract.
Video