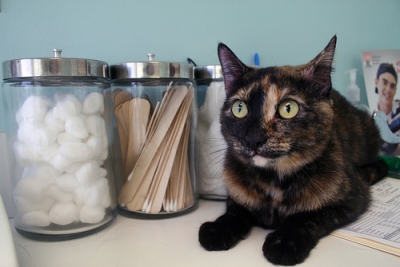 The figures given for injection site sarcomas are 1 to 10 cats per every 10,000 vaccinations administered. The mortality rate from these sarcomas is high. Lipomas (non-cancerous lumps) can occur more frequently at vaccination sites.
Surgical removal of the cancers is recommended. However it is difficult to operate or achieve wide enough margins in certain sites. Following surgery is a long recovery and the cat may be left disfigured or with a loss of function at the tumor site.
A study was begun at the University of Florida College of Veterinary Medicine, Department of Small Animal Clinical Services. The study involves using a hind leg or the tail as vaccination sites. Sixty cats were entered in the study; 31 received hind limb below the knee injections while 20 cats were given injections in the tail.
Behavioral reactions were measured in the cats and no significant differences were found. Cats vaccinated in the lower part of the tail tolerated it well.
Blood samples were collected from the cats 1-2 months following vaccinations to test for antibody titers against Feline Panleukopenia Virus (FPV) and rabies. All cats except one that received the vaccination in the tail, developed acceptable antibody titers.
Hopefully, veterinarians will begin to use these sites so that if a sarcoma does develop, tumor removal can mean better margins and less trauma for the cats.