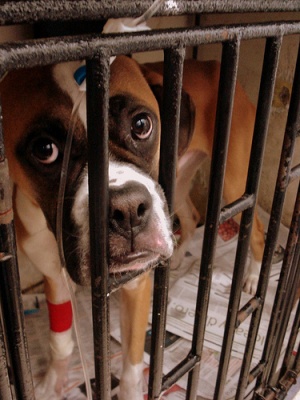 The Journal of the American Veterinary Medical Association (AVMA) has reported on a study in their September 1, 2012 issue that found a single dose of carboplatin, a chemotherapy drug, given subcutaneously immediately after surgery has resulted in similar survival times and effects as traditional chemotherapy protocols for Osteosarcoma (OSA – bone cancer).
With traditional protocols for OSA, chemotherapy is administered intravenously every 3 weeks or so for 4 or 5 sessions. The infusion of carboplatin after surgery is by means of a sterile urinary catheter placed under the skin. The diluted drug is then constantly pumped in over 3, 5 or 7 days. The dog is usually released after a day or two. After chemo treatment, the dog is seen by the veterinarian, surgical stitches and the catheter are removed.
This is a boon especially for people who live in outlying areas where trips to the vet are long and very stressful for the dog. It's good news for people living close to sources as their dogs are more comfortable too.
Osteosarcoma is one of the most painful and debilitating types of cancer. The survival benefits being equal, this research would allow for more quality time for people to spend with their pets.