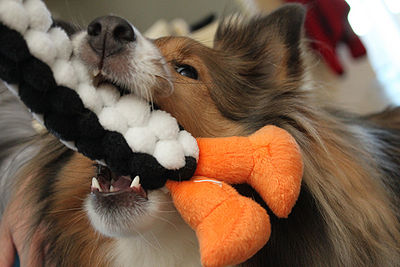 Since tug of war is a very popular game we play with our dogs, we wanted to remind you of the safe ways to engage in the sport.
Try not to use a toy that you wouldn't want your dog to play with otherwise.
Make sure the tug toy is long enough so that the dog's teeth are far enough away from your hands.
Don't allow your dog to jump for the toy before giving the signal that it's okay. Choose word commands to let your dog know when s/he can grab the tug toy and when to release it.
When your dog obeys your command to release the toy, give him/her a treat to show that s/he has done well.
If your dog's teeth are too close to or touch your hand, say something like "uh, oh" and put the toy away for a couple of minutes. Then you can resume play.
Teach your children to play tug of war with the dog following the recommendations. It's a good idea to stand by while they are playing the game with the dog.