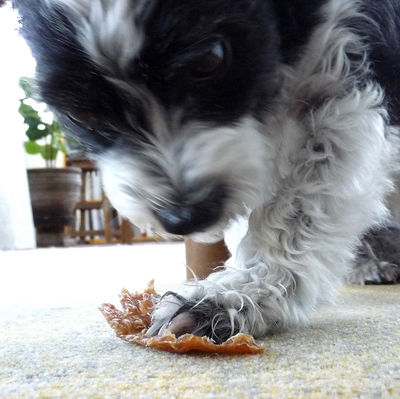 The FDA cautions that there may be an association of illness in dogs and the consumption of Chicken Jerky Treats. The products, sometimes called chicken tenders, strips or treats, are imported from China. The FDA continues to receive complaints of sick dogs that owners or veterinarians associate with eating the chicken jerky. A warning was first issued by the FDA in 2007.
The University of Sydney in Australia is also investigating illness in dogs and the consumption of chicken jerky in Australia. A firm in Australia has recalled a chicken jerky product manufactured in China.
The Canadian Veterinary Medical Association is looking into cases of illness in dogs being reported by owners and vets after consuming chicken jerky.
The FDA advises not to substitute chicken jerky for a balanced diet. Use only occasionally and in small quantities especially for small dogs.
Watch your dog for any of the following symptoms: decreased appetite (although some dogs continue to eat the jerky), decreased activity, vomiting, diarrhea sometimes with blood, increased urination, increased water drinking.
Call your vet if signs are severe or last more than 24 hours.
Related Articles: