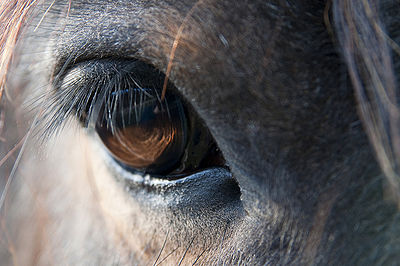 Spanish researchers at the Department of Agro-Forestry Services at the University of Seville (Spain) believe the stress level of a horse can be tested through its eyes with a thermographic camera.
Dr. Ester Bartolome Medina PhD at the Agro-Forestry Services believes that a horse's eye temperature can reflect stress levels during competing show events.
In the study, Dr. Bartolome tested jumpers 3 hours before competition, immediately after jumping and 3 hours later. Heart rates were monitored as well.
Findings were that heart rate and eye temperatures followed similar increases and decreases. Dr. Bartolome's conclusion is that they both resulted from stress.
Heart rate increased in horses traveling long distances (4-6 hours) with 3-6 hours of training daily. Eye temperature was not affected by travel or training but appeared to be influenced by age and genetics. Horse with higher eye temperatures showing higher levels of stress had poorer performances than those with lower eye temperatures.
Four genetic lines, German, French, Anglo-Arab and Mixed were tested. The Anglo-Arab breed had the highest eye temperatures showing more stress than the others.
Dr. Bartolome feels that this simple eye test along with heart rate monitoring and salivary cortisol analysis is a fast, efficient way to gauge stress levels of horses in competitions. The hope is that these tests will improve performance in young horses.
Research is ongoing.
Related Articles