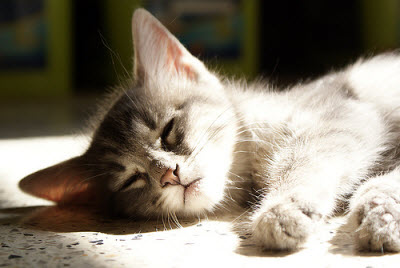 According to the American Veterinary Medical Association, swine flu, the H1N1 virus, does pose a threat to your cat and possibly other pets.
A cat in Iowa has been diagnosed with the virus. Two members of the family came down with the virus and their 13 year old cat became ill with flu-like symptoms as well. The cat was tested and showed positive for swine flu. It is believed it was transmitted to the cat by the family members who were ill. All have recovered.
Swine flu has been found in pigs, birds and ferrets as well as humans. But this is the first time a cat has been diagnosed with the virus.
Most illnesses are not transmitted between people and animals. However in this case, no matter what kind of pet you have, it's important to monitor its health. If your pet exhibits flu-like symptoms or appears ill, take it to a veterinarian to be checked.
An Oregon cat was the 3rd feline to die of the H1N1 virus.
Recently 3 cases of Swine Flu were reported in ferrets bringing the total of 4 infected.
Although unconfirmed by the American Veterinary Medical Association, the Chinese Center for Disease Control and Prevention in Beijing reported 2 dogs infected with Swine Flu. Before panicking, this report is UNCONFIRMED. There is a Canine Flu where symptoms are relatively mild which lasts about 2-3 weeks. Always check with your vet.
It was reported today, December 23rd, that a dog in suburban New York is infected with the H1N1 virus. It was also reported that the dog is recovering.